Last year I rode the "Beard Cup" hill climb. This is a climb near Delph of about a mile and a half on Standedge Old Road. My time was 8min 32sec. A reasonable time but not as good as I would have liked. I resolved to do better next time.
For the last twelve months, my whole training regime has been focused on this one event. I rode out to the course several times to assess my fitness, and on each occasion beat my previous time. Two weeks before the event I did my best time ever of 7½ mins.
Last Sunday the great day finally arrived. I had spent the previous day fettling my bike and all I had to do now was put it into the car for my wife to take to the start. I was going to ride out there with the CTC on my friend's racing bike which she had left with me while she borrowed my mountain bike to take to America. I was the only one from the CTC in the hill climb but about a dozen of them went out there with me and were waiting at the finish to cheer me on.
I took my bike out of our car at the start, replaced it with my friend's bike and my wife drove it up to the top of the hill. While the starter held my bike my adrenaline began pumping and as the final countdown from ten ended I jumped on the pedals and was away!
But not as spectacularly as I would have hoped. The hill felt steeper than it ever had in the past, my bike seemed lethargic and my legs soon got tired. The guy in front, who I was trying to catch began to pull away and now my lungs were bursting and my legs felt like lead. Even my arms were aching and it felt as though I had no blood left in my body. As well as seeming much steeper the hill appeared twice as long as before and near the finish my throat was rasping through trying to draw in extra oxygen and then, horror of horrors, the chap who started a minute behind me overtook me! And so did the one behind him! I was mortified as I approached the finish more dead than alive. My friends in the CTC tried to egg me on but I could not respond and collapsed as I crossed the line in a time of 10min 37 sec. Two and a half minutes slower than I had ever done before.
I despondently rode home with my clubmates and tried to analyse my appalling performance. The only explanation I could think of was that it was to soon after lunch. The climb had started at 2pm so we had lunch on the way (soup and beans on toast). I always dislike climbing a hill immediately after lunch. Would have done better on an empty stomach? Perhaps – but not two and a half minutes better.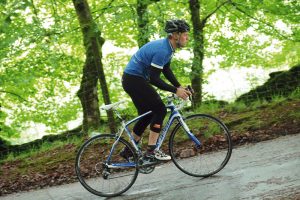 My wife was waiting to comfort me when I got home. I went to get my racing bike out of the boot of the car while she was making me a cup of tea. As I tried to wheel it in I found it wouldn't move. The back wheel wouldn't turn. I carried it into the house and had a look at it. The wheel was jammed solid against the chainstay. It had obviously pulled over when I jumped on the pedals at the start. I couldn't turn the wheel at all by hand but had ridden up the whole hill like that. It's a good job the hill was no longer as the casing of the tyre was almost completely worn through. I was relieved to find the reason for my poor performance and wondered what time I would have done if the wheel had not pulled over. I resolved to find out immediately, fitted a new tyre, finished my cup of tea and we drove back to the hill again. I got out at the start, put my helmet on, and realised I had left the bike at home!
I went out the next morning and blasted up that *#%$*!! hill in 7 mins 22 sec without a warm-up.